by Marion Zagar and Curt Fonger – Jan. 30, 2013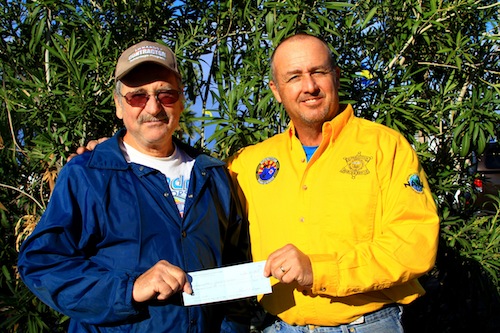 Recently the residents of the Golden Sun R.V. Resort held a fund raising event to assist Superstition Search & Rescue (SSAR) in their quest to purchase night-vision equipment. This vital piece of equipment will aid SSAR in locating missing people during night time searches.
Volunteers in the Park prepared and served baked potatoes along with delicious toppings to over 225 individuals at this sold-out event. All proceeds gained from this fun event will be used for the night-vision goggles as well as other equipment that SSAR may be in need of.
As a result of this fund raiser, Golden Sun participants were able to turn over a check to Director/commander Robert Cooper for $1,000 Dollars.
Golden Sun R.V. Resort has played a pro-active role in the Apache Junction community for the past few years by selecting and sponsoring fund raisers for community entities that help the residents and visitors of Apache Junction and surrounding area by raising monies to further enhance their public service.
Previous fund raising events have assisted the Apache Junction Fire District, the Apache Junction Police Department and now the Superstition Urban & Wilderness Search & Rescue Organization.
For more information about SSAR, please go to: www.superstition-sar.org.