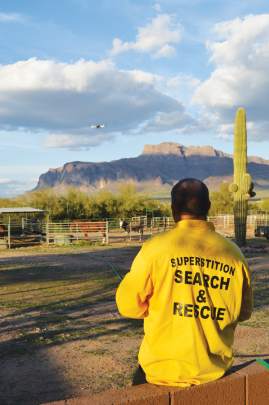 Wendy Miller
Independent Newsmedia Inc. USA
A local search and rescue team is using a new aerial device to find missing persons and help in a statewide effort called Project Blue to mark vehicle wreckage that has already been identified.
In November, Superstition Search and Rescue purchased a Turbo Ace Matrix quadcopter, a remote-control helicopter that stands about a yard wide when all four propeller arms are extended. Mounted to the RC device is a video camera that transmits live feed from the camera to a screen on the handheld control, according to the manufacturer's website.
SSAR paid about $5,000 with money from its treasury for the well-equipped quadcopter, which it named Eagle 1. It was money well-spent, said SSAR Cmdr. Robert Cooper.
"It's a great search tool," Mr. Cooper said during an interview earlier this month. "We've already had it on about a half-dozen searches."
Superstition Search and Rescue is a private volunteer service organization dedicated to wilderness and urban search and rescue in Arizona, according to its website. Between August 2009 and April 2013, SSAR members solved nine cold cases — searches they were requested to assist in after the initial search was completed, according to the SSAR website.
Mr. Cooper attended a half-day flight school in Orange, Calif., to learn how to fly the quadcopter. He believes it will help him and his team find additional missing persons, he said.
The aerial device can fly up to 30 minutes on one battery, Mr. Cooper said. That's enough time for it to clear — that is, search for a body or evidence — several miles of open land, he said.
The quadcopter has a transmission range of about 1.3 miles but Mr. Cooper said he won't risk flying it that far away for fear of losing it. He is considering the purchase of a $100 canine GPS device that he could attach to the quadcopter much like it would to a dog's collar to help track the device.
Eagle 1's high-definition camera footage can be uploaded online so that SSAR volunteers can remotely study the footage frame-by-frame, Mr. Cooper said.
The quadcopter also can help searchers look through rough terrain that they otherwise would not be able to reach by foot, he said.
The technology would have assisted in the search of hikers who were later found in rocky, remote areas, he said.
In 2009, Colorado treasure hunter Jesse Capen, 35, went missing during a search for the legendary Lost Dutchman's gold mine in the Superstition Mountains in Apache Junction. After a three-year search, SSAR found his remains in November 2012 after a searcher spotted a boot in a crevasse 35 feet off the floor, making it hard to see from any direction, Mr. Cooper said.
The SSAR commander said he believes aerial assistance from the quadcopter would have shortened the search.
SSAR is using the quadcopter during its search for the missing Joe Domin, Mr. Cooper said. Known as "GPS Joe" because of his use of the electronic guidance system, Mr. Domin was an avid hiker from Mesa who "did everything by the book," SSAR member Marta Saint-James told the Apache Junction/Gold Canyon Independent during an interview last May. Mr. Domin was reported missing Nov. 15, 2010, and was last believed to be in an area near Four Peaks and the Mazatzal Mountains, Ms. Saint-James said. SSAR was brought in on the cold case in December 2012, according to its website.
SSAR was encouraged at the time by a landmark members sighted in an aerial photograph of the area where they are searching for GPS Joe. In the photograph was a large X made of two 10-foot-long branches.
"It could be intentional or accidental," Mr. Cooper noted in May.
The quadcopter could produce additional video for searchers to review, he said earlier this month.
The team's recent efforts to hunt for Mr. Domin have been hampered by snow covering the ground, Mr. Cooper said during a phone interview last week.
The device also could assist other local agencies, Mr. Cooper said. It has a GPS lock that enables it to hover over a live incident so it can be viewed from a safe distance, he said. That means SSAR could loan Eagle 1 to the Apache Junction Police Department to use during a Special Weapons and Tactics situation or to the Apache Junction Fire District to view a fire or flood from overhead. SSAR will use Eagle 1 next month to help with Project Blue. It is a nonprofit organization dedicated to improving the search and rescue efforts for people in vehicle accidents in remote areas, according to its website.
The quadcopter will help searchers find existing off-road wreckage in canyons and other hard-to-reach areas, Mr. Cooper said. Volunteers will then rappel down and mark the wrecked vehicles with a blue X so future aerial and ground searches for missing people can distinguish old wreckage from new and save precious search time, Mr. Cooper said.
Project Blue is a tribute to Jeff Block and his dog, Blue. The two were found at the bottom of Arizona's Salt River Canyon after the vehicle in which they were driving lost control on a mountain highway and drove 800 feet off the cliff, Mr. Cooper said.
They were reported missing July 25, 2012, after they did not return from the drive in the mountains; their remains were found two weeks later, according to Project Blue's website.
Mr. Block's brother, Danny, will visit the Valley March 8, Mr. Cooper said. On March 8 or 9, volunteers from SSAR and Project Blue will tag vehicle wreckage, Mr. Cooper said.
The nonprofit rescue team was originally formed in 1981 as Apache Junction Search and Rescue. In 1994, it incorporated and changed its name to Superstition Wilderness Rescue, Inc. It later changed the name again to Superstition Search and Rescue and is a Community Emergency Response Team.
For more information, visit SSAR's website. For survival tips, visit its Facebook page at Superstition Mountain Emergency Preparedness, where it posts two tips weekly, Mr. Cooper said.