by Joshua Rhett Miller, Fox News – Nov. 29, 2012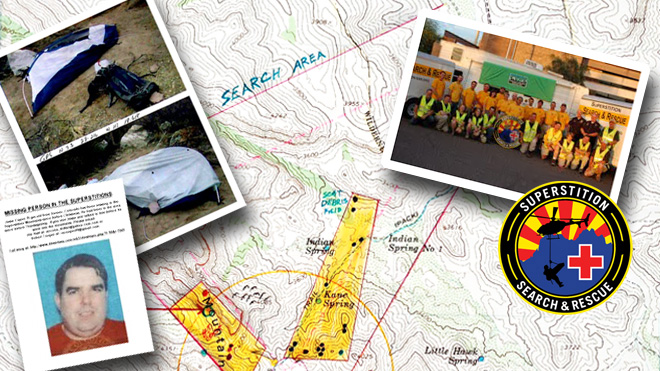 Three years ago, a Denver bellhop ventured into Arizona's Superstition Mountains determined to find the Lost Dutchman's Mine, an elusive, vast gold reserve that has lured prospectors since the 19th century.
Jesse Capen, 35, had made finding the hidden treasure an "obsession" fueled by more than 100 books and maps on the legendary – and perhaps nonexistent – mine named for German immigrant Jacob "The Dutchman" Waltz. On Saturday, years after Capen's Jeep, wallet, backpack and cellphone were found by hikers, volunteers from the Superstition Search and Rescue finally located what they believe is Capen's body.
"We call 'em Dutch hunters out here," said Superstition Search and Rescue Director Robert Cooper. "They're infatuated with all the lore and the history of the lost Dutchman mine and he was part of that."
While the remains have yet to be positively identified, Cooper said he's "confident" the remains are that of Capen based on where the body was found, clothing found nearby and other identifying characteristics. The body, Cooper said, was found in a crevice roughly 35 feet up a cliff face in the southern portion of the Superstition Mountains, near the 4,892-foot Tortilla Mountain.
"We had been out there searching nearly every weekend for three years and this particular time we were scouring an area where a small daypack was located and had a few articles in it and we started scouring the cliffs," Cooper told FoxNews.com. "And then we were able to spot a boot in a crevasse 35 feet off the floor, making it nearly impossible to see from any direction. He was in a tight spot and that's why it took so long to find this young man."
Capen's father declined to comment, and his mother, Cynthia Burnett, could not be reached. But in 2010, Burnett told the Denver Post her son had become "obsessed" with the legend of the Arizona gold mine.
"This is beyond obsessed," Burnett told the newspaper. "He has more than 100 books and maps on the legend."
Cari Gerchick, communications director for Arizona's Maricopa County, told FoxNews.com that the body is currently classified as unidentified. An autopsy took place on Tuesday, she said, and the results are expected to take weeks.
"We do not have a specific identification at this time," Gerchick said.
In December 2009, a month after Capen's disappearance, his campsite was found and clearly indicated his level of devotion to his newfound infatuation, Cooper said. A copy of Estee Conaster's "The Sterling Legend: The Facts Behind the Lost Dutchman Mine" – billed as the definitive work on the lost mine – was found in his tent.
"So we kind of know what he was thinking and doing there," Cooper said. "He would stay at his hotel, rest, shower and then head back out … a couple of days in, a couple of days out. All these guys think they found it or know the answer."
Capen, who had worked at the Sheraton Denver Downtown Hotel for more than a decade, had ventured to the area at least two other times in the past decade in search of the mine.
"He worked [the] graveyard [shift] and he mostly kept to himself," hotel employee Terry Reyes told FoxNews.com. "[The lost mine] is the reason why he went there. He took a month off to go search for the treasure."
Cooper said Capen's undoing was likely the result of heading out in search of lost gold alone.
"People should always tell someone where they're going, have a plan and have someone go with them," he said. "Most of our searches are for people who went in alone."
Asked if he believed the rugged mountains contain one of the most enduring tales of treasure in North American history, Cooper replied: "I don't believe it. Our wilderness doesn't appear to have any gold in it, but a lot of people believe there is."
An untold number of prospectors have searched the Superstition Mountains for the mine. In the 1840s, according to the Denver Post, the Peralta family of Mexico mined gold out of the mountains, but Apaches attacked and killed all but one or two family members as they took the gold back to Mexico. Some 30 years later, Jacob Waltz – nicknamed "the Dutchman," even though he was German – rediscovered the mine with the help of a Peralta descendant, according to legend.
Waltz, who died without revealing the mine's location, reportedly shot people who followed him as he returned to it for more gold.