by Monica Alonzo – Nov. 26, 2012 08:29 AM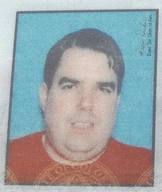 Superstition Search and Rescue team members have located the remains of a man in the Superstition Mountains.
Volunteers discovered the remains about a half-mile from the spot where Jesse Capen, a gold prospector in search of the Lost Dutchman's Mine, had set up his campsite back in 2009. Capen, a 35-year-old Denver man, has been missing for nearly three years.
Although the remains must still be identified by the Maricopa County Medical Examiner, it's possible that while Capen never found the gold, the search team has finally found him.
Robert Cooper, one of the leaders of the Superstition Search and Rescue, says that when the official search was over, Capen's mother asked them if they could keep looking for her son.
The team has been searching for Capen since he went missing nearly every weekend for nearly three years.
He says the body was found in a tight space about 30-feet off the ground. The team marked the spot, left the body undisturbed and notified the Maricopa County Sheriff's Office.
"We never give up until the individual is found," says Cooper, cautioning that positive ID hasn't yet been made in this case to officially determine whether the remains are of Capen.
In 2010 New Times ran a story featuring Capen: Fool's Gold: Prospectors Have Looked for the Lost Dutchman's Gold for a Century, But Jesse Capen Figured He Could Find It. He Probably Died Trying.
Here are some excerpts, and note that Cooper pointed out that most people are found about half-mile from their campsites.

"…Jesse Capen, a 35-year-old Denver man who disappeared up this trail back in December. They've been out here at least six times in the past four months, combing the craggy terrain for any sign of his body, a shredded piece of clothing, or the few belongings Capen brought with him to Arizona that weren't later found in his tent or his Jeep.

There aren't many clues, and that might just be how Jesse would have wanted it. Capen was searching for the fabled Lost Dutchman's Gold Mine, and like most of the other treasure hunters who've made their way to this remote area in the south-central portion of Tonto National Forest over the past 120 years, he was extremely secretive.

Capen was obsessed with the legendary mine. Though Jesse barely mentioned the subject to family or friends, they found more than 100 books and maps on the subject in his apartment after his disappearance. Capen saved up vacation time for two years so he could take a month off from his job as a bellhop at a Denver hotel, giving him plenty of time to search. Last summer, he traded his car for a Jeep with four-wheel drive. The vehicle is perfect for navigating the yard-high drop-offs on the pocked three-mile dirt "road" leading up to the Tortilla Trailhead.

Capen had been out to Arizona to look for this mine — probably the most legendary lost mine in American history — at least two other times in the past decade, though no one knew about one of the trips until after he disappeared and his computer files were searched. All in all, it's made for a hell of a mystery.

Robert Cooper, commander of the search squad, says a lot of people don't have any idea how dangerous this area, 50 miles from Arizona's capital, can be. Several men in the first group of searchers who set out on the 2.5-mile trail from the end of the road to Capen's campsite carried a sidearm.

Mountain lions are the main concern — the area is crawling with them — but there's also a danger associated with the grizzled prospectors who squat in these mountains, hunting for gold. Not far from where Capen disappeared, there's a prospector living in the wild, poaching small game and dodging any Forest Service personnel who might make their way up the road to catch him digging on government land.

Odds are, though, that Jesse had some sort of accident that left him incapacitated, and he'll eventually be found within a rugged half-mile of the campsite. Statistically speaking, people are almost always found within that distance, says Cooper, whose froggy drawl recalls a soft-spoken Jim Nabors.