Local rescue team volunteers make annual trek
Apache Junction News
By Curt Fonger
October 8, 2012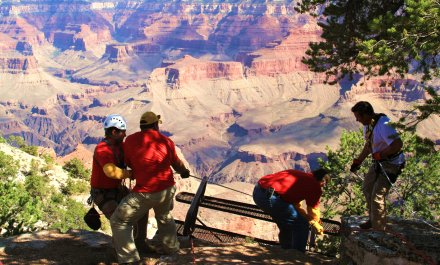 Superstition Search & Rescue (SSAR) once again participated in the Annual Grand Canyon "Over the Rim Clean-up," during the weekend of September 29-30. The event was organized by the Arizona Mountaineering Club (AMC).
Three teams assisted the Grand Canyon National Park Service this year: the Arizona Mountaineer Club; Central Arizona Mountain Rescue Association (CAMRA); and Superstition Search and Rescue.
The 2012 event saw thirty SSAR team members and their families attend this volunteer, fun event. Over 100 combined volunteers from the three groups spent two days cleaning up one of the world's natural wonders. What a way to spend a weekend!
Bag after bag of trash, such as cell phones, cameras, hats, toys, footballs, flashlights and, yes… coins, lots and lots of coins were hauled up from far beneath the rim.
One of the SSAR team members, Donnie Rudd, rappelled over 600′ down at Yavapai Point to collect a metal foot locker that someone had thrown over the side. Rob Canby, another team member rappelled down over 300′ near the Bright Angel Lodge point to retrieve numerous signs that another irresponsible person had thrown over.
What a tremendous team effort to accomplish this nearly impossible mission. The importance of retrieving the coins results from the California Condors trying to eat anything shiny, which could be fatal for one of these 9 1/2 feet giant winged scavengers which are a protected species. Thus, collecting coins from the depths of the canyon is crucial to their survival.
The sunny skies, temperatures in the mid to high 70's with full moon nights for all those that camped at the Mather Campground made for a perfect weekend.
The bull elk were in rut, so the increased activity of elk bugling throughout the day and night was incredible. There were bull elk, cows and calves walking through the camp; the parade of these wild, awesome creatures was endless.
The Superstition Search & Rescue team is an all-volunteer nonprofit organization that meets on the second Tuesday of every month at the Apache Junction Elks Club on north Hwy. 88 at 7 p.m. Anyone who is interested in more information on how to join this incredible group of volunteers is welcome to attend the meeting. For more information go to www.superstition-sar.org.